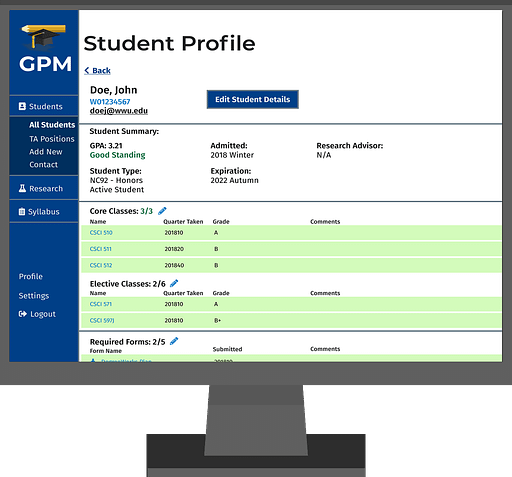 Graduate Program Manager
Website content and an administrative application created for the Western Washington University Computer Science Department's Graduate Program to evaluate student progress and communicate program details.
---
Information Architecture
75%
Timeline
January 2020 – June 2020
September 2020 – December 2020
Tools
Figma, HTML, JavaScript, CSS, React, Express, MongoDB, Node.js
People
Developers: Christopher Drazic, Ryan Taylor
Researcher/Designer: Martin Smith
Clients: Yudong Liu, Ridley Williams, Tatyana Stahler
Advisor: Filip Jagodzinski
---
In Bellingham, Washington, the Western Washington University Computer Science department offers a Masters of Science in Computer Science degree. Their graduate program is unique since it is customizable in nature, while providing an accessible pipeline for WWU Computer Science undergraduates and mid-career professionals to easily pursue and further their education.
Problem(s)
At the time that my team was working on the project, an Advisor and a couple of administrative staff within the Computer Science department were in charge of evaluating the academic progress of their graduate students using an Excel spreadsheet. Since the Master's program is customizable based on a specific student's progress, this process ended up being complex, tedious, and time-consuming for all parties involved. With the team having other responsibilities within the Computer Science department, there was never an adequate amount of time to accurately assess student progress or perform outreach duties like answering student questions and advertising the Master's program to prospective students.
To ensure that the Computer Science department could provide a higher quality service to all their graduate students, the goal of the Graduate Program Manager project is to help the graduate advising team by streamlining the student evaluation process and to help keep current and prospective graduate students informed when the program increases in size.
How can administrative staff and faculty better evaluate graduate student information and progress, along with being able to communicate effectively to current students, prospective students, and the rest of the department?
Since the application's software had been in development by previous students, my team and I were tasked with continuing their work by giving a more professional look to its interface, hosting it on departmental servers, and cleaning any coding nuances. After some analysis, I found there to be a huge issue with the current design of the application being developed. It had too large of a scope trying to provide two different services: (1) a website hosting graduate program information and (2) a student evaluation system. This forced me to stop my work and ask "How can this product be more feasible towards its goals"?
As the development team focused on understanding the pre-existing software developed for student evaluations, I took a step back to gain better context and understanding of the project's goals. By conducting interviews with stakeholders and a heuristic evaluation of online resources readily available to the public, I was able to identify and split user goals of the project into two different personas – staff and students. This helped verify that the scope of the application and project had gotten too large.
With this discovery, I then used my findings to process, reorganize, and prototype the project into two separate components, taking the following into consideration:
1.) To improve the graduate student's experience of understanding of their status academically, certain information must be readily available. This includes both general questions about advisement, resources from both the Computer Science department and WWU Graduate School, and steady communication between advisor and student.
2.) To make accurate evaluations about student progress, important criteria such as a student's GPA, status, and number of forms submitted should be visible and readily available.
3.) All aspects of the project must be easily maintained (Graduate Advisor, administrative staff, IT staff, and departmental Webmaster).
Improving the Information Architecture on the Departmental Website
After getting approval from the development team to decouple the two components, I first put my attention on WWU's Computer Science departmental website, where resources were assumed to be readily available and accessible.
Conducting a heuristic evaluation regarding the current website's ability to provide information, pain points arose in content visibility and needed effort to access desired information. With assistance from the department Graduate Advisor, the WWU Computer Science Graduate Student Handbook, and other online resources from the WWU Graduate School, I reorganized the information architecture of graduate resources on the site so content would become more visible and easier to skim. Furthering on top of that I also pitched a different information hierarchy for the website's Academic section. This included advocating for improved website navigation and about 10 new pages of content detailing specifics about the Computer Science Master's program.
By January 2021 (one month after my team's completion of the project), the Computer Science department had updated their website to include more content detailing their Master's program.
Reimagining the Functionality for the Administrative Application
Due to the sensitive nature of the information involved in the student evaluation process and with WWU being a public institution, this section will be password-protected. Please reach out to me if you want to learn more about the work I did on this specific portion of the project.
---
1.) Asking questions is key for success. Although this project was inherited from previous developers, that did not stop me from asking questions that delved beyond the technical and software side of the project. Doing so, I quickly uncovered findings that proved insightful to the design of the project, which in turn helped streamline development of critical features and components of the application.
2.) Nothing works as planned, and adjustments will need to be made. When I discovered the design issues in the software, my team was midway through the project and I had spent multiple hours on the front-end of the project. Despite this, I made the decision of shifting gears to utilizing UX principles so a stronger design could be established, even if it meant discarding all of my work. Interviewing key stakeholders, drafting prototypes, and splitting the projects into two smaller components allowed not just the stakeholders to realize the potential of the application, but it also solidified my team's understanding of what the project needed to accomplish in and out of its goals.
---