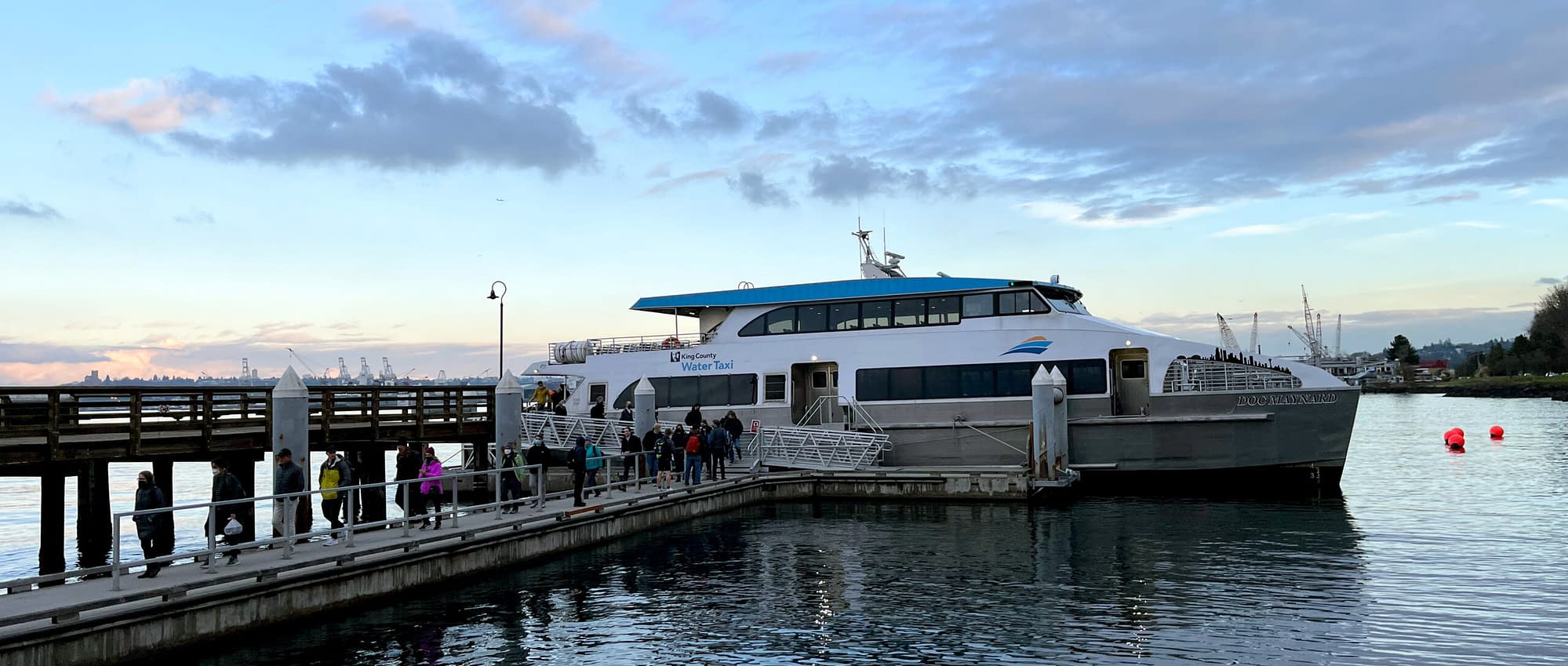 Washington State Passenger-Only Ferry Study: West Seattle Route
Observations of passenger-only ferry service in West Seattle, and proposal about improving the visibility, service, and overall user experience of West Seattle and its ferry service.
---
Visual Design & Photography
85%
Timeline
February 2022 – March 2022
5 weeks
Tools
Figma, Photoshop
People
Researchers & Designers: Krishna Gurung, Martin Smith, Jinyu Wu, Yuhan Wang
Advisor: Bernadette Berger
---
Washington State passenger-only ferries are able to quickly shuttle people around the Puget Sound region. These ferries currently service areas around King County through the King County Water Taxi, and Kitsap County through the Kitsap Fast Ferries and Kitsap Foot Ferries. Rides on these fast ferries can be as short as 10-15 minutes from West Seattle to Downtown Seattle or as long as around 30-40 minutes from Bremerton/Kingston/Southworth to Downtown Seattle, depending on the route and weather.
Problem(s)
The population growth that the Seattle area has experienced within the past 10 years have put a strain on transit and how people get around the region. Slower transit results in delays in travel times, which can lead passengers to experience negative emotions such as frustration, anxiety, and stress. This increase in population also results in more crowded conditions when taking public transit, which causes uncomfort and unease.
Although the ridership of passenger-only ferries throughout the Puget Sound has gradually increased over the years (and currently rebounding from pandemic restrictions), residents in the surrounding metro area have little exposure to passenger-only ferries compared to Washington State Ferries (WSF), which leads to confusion about how the service works across the region.
How can passenger-only ferries and their transit services gain more exposure and visibility around the Puget Sound region, and in turn improve the rider experience?
To gain better insights of how commuters feel about the passenger-only ferry service around the region, my team and I did in-depth research on the West Seattle to Downtown Seattle route since I had high familiarity with the West Seattle neighborhood and community (I grew up there – graduated from West Seattle High School back in 2016).
Having prior context of the neighborhood and transit issues around West Seattle, I delved deep into desk research about issues such as ferry ticket pricing, accessibility, visibility, and amenities. This research helped bring more insights into the general needs for a successful passenger ferry service experience, and how the ferry was being integrated and servicing West Seattle.
Observations
In order to build a better understanding of the motivations, experiences, feelings, and thoughts people had when taking the ferry to Downtown Seattle, my team and I conducted several observations at the West Seattle passenger ferry terminal at Seacrest Park during the early mornings and evenings. Taking the commute back and forth on the West Seattle route, we talked with and interviewed seven early morning commuters, ranging widely in age and gender.
Some important observations that we found:
The early morning commute was observed to have more commuters head into downtown compared to when heading to West Seattle, and vice versa for afternoon and evening commutes.
All interviewees expressed having a positive experience with riding the Passenger Ferry with its convenience, consistency, and fast commute. A couple of interviewees also mentioned the uniqueness of the method of transit and how nice it was having personal space during their commute.
Regular riders were highly familiar with the ferry departure times based on observations and interviews. With departure times being separated by 35 minute intervals for the West Seattle route, missing a ferry can have negative consequences.
Familiarity with the service also showed that ticket booths were not utilized, for observed early morning commuters had an ORCA card to pay fare and board the ferry.
Communication about ferry cancellations were crucial for a few interviewed commuters so they could find alternative transit methods to get in or out of West Seattle.
Key Takeaways
Communication is key for a successful transit experience. This not only includes how transit updates are dispersed, but with how visible, available, and accessible the information is to riders as well.
Environmental cues are influential to people's feelings about the ferry experience, especially within terminal spaces. Observations of early morning, evening, and even one commute in the rain at the West Seattle terminal indicated inadequate amenities throughout the waiting phase such as outdoor lighting and shelter. Despite this, views of the Seattle skyline and abundant marine life brought a unique atmosphere to the terminal and therefore West Seattle.
With a stronger idea about the fast ferry ecosystem in Washington State, my team and I came up with some ideas that would help improve the visibility of the public transit service. Popular ideas included:
Improving signage and terminal spaces to increase environmental cues that would retain neighborhood character while bringing more benefits to the commuter's arrival, waiting, and departure experience.
Rebranding the passenger-only ferry experience under one organization to improve recognition of the public transit service, similar to Washington State Ferries (WSF) and Sound Transit Authority (STA).
Use community events to improve exposure, like expanding service times to accommodate big sporting events at Lumen Field, Climate Pledge Arena, or T-Mobile Park. This would be applicable for passenger-only ferries with routes connecting to Downtown Seattle.
Streamlining communication methods about passenger-only ferry cancellations to commuters using the myORCA app.
With observations and interviews fresh in mind, my team narrowed our focus to signage and terminal spaces of the fast ferry since there was a huge opportunity for improving waypoints at West Seattle, especially as ridership numbers and demand for public transit in the region continue to rise.
Ideal User Journey
To bring a visualization of wayfinding to Seacrest Park to life, my team and I built a persona with our observation and research findings. In furthering the need for improved wayfinding, the persona's user journey and interactions with the idealized space were visualized. The goal with these was to build better understanding and empathy for the improvements that wayfinding could bring to the community and the passenger-ferry service.
Departure to West Seattle Terminal
Arrival at West Seattle Terminal
Entering the Seacrest Park Terminal building
Descending the Dock to Board
Time passes by, the commuter departs the ferry and eventually gets to their work on time. The day goes by, and sooner than later the work day is done. The commuter wraps their day up, and returns to the ferry terminal in Downtown to head back to West Seattle.
Departing the Ferry and Returning to West Seattle
Ending the Day
For West Seattle's ferry terminal space and surrounding areas to improve signage, the next steps would be to prototype wayfinding concepts for Seacrest Park and the surrounding areas. To ensure that a terminal space and other wayfinding points are effective, user testing with both residents and non-residents of West Seattle would be required.
Once done, the following step would to get the City of Seattle and King County Metro involved by advocating for improved signage and amenities around Seacrest Park. With a population increase in the Seattle metro area, having appropriate signage and space would better handle the increase of riders and improve the visibility of West Seattle, its businesses, and its passenger-only ferry route to others living outside of West Seattle and the Seattle metro area.
---
There is no such thing as a perfect solution, and that's alright. Only having about five weeks to conduct research and come up with a design solution brought up many challenges, especially since the subject of the problem was (and still is) very ambiguous in nature. Focusing on the user journey and the waiting experience at Seacrest Park helped bring more clarity to the needs for wayfinding and information visibility, and allowed my team and I to better communicate the design ideas to the community.
---