Website content and a website application created for the Western Washington University Computer Science Department's Graduate Program to evaluate student progress and display relevant program information
9 Months
January 2020 – June 2020,
September 2020 – December 2020
Western Washington University
Front-End Developer
UX Researcher
Website Designer
Content Developer
User Interface Designer
MongoDB, ExpressJS, ReactJS, Node.js
JavaScript
HTML/CSS
Drupal8
Figma

Interviewing
Stakeholder & Competitor Research
Prototyping
Front-End Development
Content Accessibility

Western Washington University, also known as WWU, is a higher education liberal arts institution residing in Bellingham, Washington that services roughly 16,000 students total.  One of their departments, the Computer Science department, offers two types of Graduate level programs for students. By enrolling in either program, the department promises these students a Masters of Science in Computer Science upon graduation.
As the Graduate Advisor of the Computer Science department has to advise graduate students on top of their other roles as a Faculty member and an active member of the WWU community, they do not have the sufficient time to reach out to all current and prospective graduate students individually. The goal of the Graduate Program Manager application is to help the advising process by reducing the amount of time it takes to evaluate student progress and answer student questions.
Working with Software & Changing Directions
Inheriting this project from a previous team of student developers , my job as the front-end developer of the code-base was to use ReactJS and CSS to clean and re-style components of the program information in the application. The plan was to match WWU's current themes while applying a modern feel.
As I worked on these components and styles however, the difficulties of maintaining and updating information became prevalent , especially when WWU updated their website themes and the Computer Science department adjusted program details about how graduate students would go at degree planning.
For the project to be successful I needed to conduct a more holistic approach to gain a better understanding of the project's needs. Doing this would make sure that the project would remain relevant for all the current and future stakeholders.
How can administrative staff and faculty better evaluate graduate student information and progress, along with being able to communicate program details effectively to current students, prospective students, and the rest of the department? 
As my teammates worked on the back-end of the software to ensure the application's maintainability, I undertook research to identify pain points to better understand how the Computer Science department runs their graduate program. Doing so would allow me to better determine how our project fits into the grand scheme of the department's process.
Understanding the Current Process
During my evaluation of the Computer Science department's website, there was a lack of information present on its page describing the Masters Program along with an unintuitive navigation to find desired information. A big takeaway was that with all the department's graduate program information spread thinly among its website, Student Handbook, and the WWU Graduate School website, there was no single site that had all the department's Graduate Program information readily available.
Having interviewed and communicated with both the Graduate Advisor and the Departmental Manager,  I also uncovered the current evaluation methods that are used to see if students were on track to graduating. With many different fields and methods to properly evaluate students based on their status, finding the necessary information becomes challenging due to the large amount of information needed to do evaluations effectively.  In my discussions, both the Graduate Advisor and Departmental Manager  agreed that knowing the student's admit type, teaching assistant roles, research projects, GPA, submitted forms, and coursework were important to make an accurate and precise evaluation.
Trying to better understanding other methods of advisement, I conducted a competitor analysis within the WWU Graduate School, its other Graduate Programs, and graduate programs from other universities such as the University of Notre Dame and the University of Washington. This gave me insight on the types of information readily available to current and prospective graduate students, the information structure, and the user flow upon their various websites. Furthering my research of WWU's methods of user flow, I discovered their website content implementations using Drupal8 and their commitments to making accessible content due to university guidelines of following Website Content Accessibility Guidelines (WCAG) 2.0.
Visibility plays a key role in ensuring graduate student success.
From understanding the current evaluation methods of student progress to the Student Handbook and departmental website explaining program specifics, all stakeholders of the graduate program need to able to see the information to make smart judgement calls.
The scope of our project and application was encompassing two different problems instead of one.
With needing to solve both issues of sparse graduate program information and properly evaluating student progress, both problems would need to be approached with different solutions to allow for easier maintainability instead of the previously developed implementation of all content being hosted in one application.
With my team's approval of my ideas, I decided to remove the department's program information from the codebase so the developed application's functionality would primarily focus on the administrative tasks. Meanwhile the program information would be relocated to the Computer Science department's website, where it would be maintained on a semi-regular basis by the Computer Science department's webmaster.
Taking my conversations with the graduate advisor and departmental manager and my team's evaluations of the codebase into consideration, I drafted a redesign of the objects that better organized database objects which the application would poll and display as needed. Having those objects made it easier for me to design some potential Administrative feature layouts, which I centered around Students, Teaching Assistants, and Research Projects. The main goal I wanted my layouts to accomplish was to provide easy visibility so that administrative users could quickly and accurately make evaluations without feeling overwhelmed.
Program Content Development
Working together with the graduate advisor, I helped create and expand upon content that we believed to be essential information for both prospective and current graduate students of the Computer Science's graduate programs. Utilizing our combined knowledge of the graduate programs and my understanding of how WWU uses Drupal8 for their websites, I laid out the information and structure for both program and advising specifics. From there we communicated to the department's webmaster to explain and show what changes we needed to be made to the website.
As the program content is added to the department website, an observational study would need to take place to see if the information supports and improves prospective and current student understanding of the Masters program.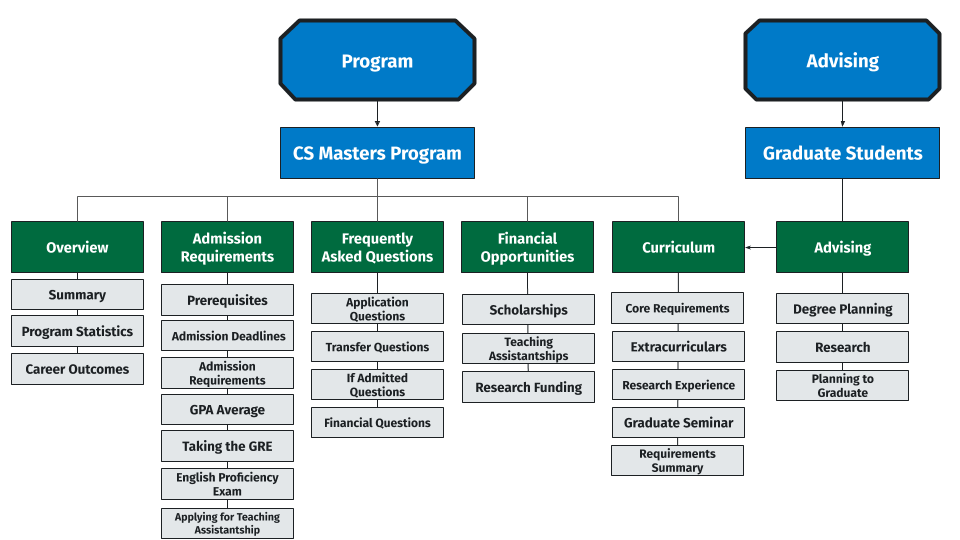 Reflection - So What Did I Learn?
Changing the direction of the project can make an even better quality product.
Coming across the redundancy and maintainability issues of the program information at first had me worried about discarding several hours of my coding contributions. Separating the two problems however brought more clarity of how to better address each need of the project as our team moved forward.
Having a vision for the project is better than developing code blindly.
Even though this project was inherited, as the front-end developer I had no idea what I was creating styles for. Returning to the drawing board to draft up designs for both administrative tasks and program information not just helped me understand the desired interactions needed, but it also helped my teammates better determine and define the objects that the administrative tasks handles in the back-end functionality of the code.